To sign up for an OMRRA track day, you'll need to create an account in our database. Account creation will require your personal, address, emergency contact, health insurance account and motorcycle information. The first time through will take a few minutes. Once your account is completed, you will not need to repeat this process. Log in with your email address and password and go straight to event selection.
Create a new account:
https://trackintel.com/ti/omrra/
Click "sign in" then "new account"
enter your real first and last name and email address.
you'll receive an email acknowledgement from [email protected]
This message could take a few minutes, please be patient.
Click the link provided in that email, set your password and "click here to continue".
You should now be logged in.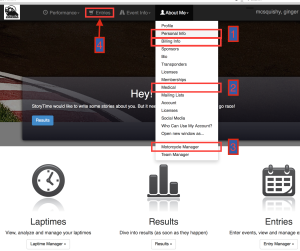 Step 1. In the menu bar, click on "About Me" then "Personal Info", fill out the form then click "Save". Do the same in "About Me" then "Billing Info", click save.
Step 2. Once finished there, click on "About Me" then "Medical" – the only info needed here is emergency contact and insurance info. 
 Step 3. Next we need your bike info. In the menu bar click on "About Me", then "Motorcycle Manager", then click "Add a New Vehicle". Fill out the form. We only need year, make and type.
Still in "Motorcycle Manager", once you've added your bike, click on the little gray arrow to the right of your bike. Then click on "Run Class Interview" and "Start Interview". Answer the questions. Once you are complete,  you should see a list of race classes, including "Track Day A/B Group". Please click "Save Results" at the bottom of the window. 
 Step 4. Finally you can sign up for a trackday. Click on "Entries" in the menubar. A sidebar should appear from the left – click on right arrow for the appropriate weekend
Round 1 = April
Round 2 = May
etc
Select "Track Day A/B Group" by clicking the "+"
Head to checkout by clicking "Next".
Your address in "billing info" and the billing address on your credit card must match.
Be sure to complete the transaction – you'll receive a confirmation email once it's done.
Note:
If the system is missing any required information (your birth date, emergency contact address, etc), instead of seeing "Round 1, Round 2, etc" in the sidebar, you'll see a list of needed info. Yes, you can click directly on the list items, but this doesn't work as smoothly. Best to repeat steps 1-3 to fill in the missing info.