OMRRA SuperCorn Weekend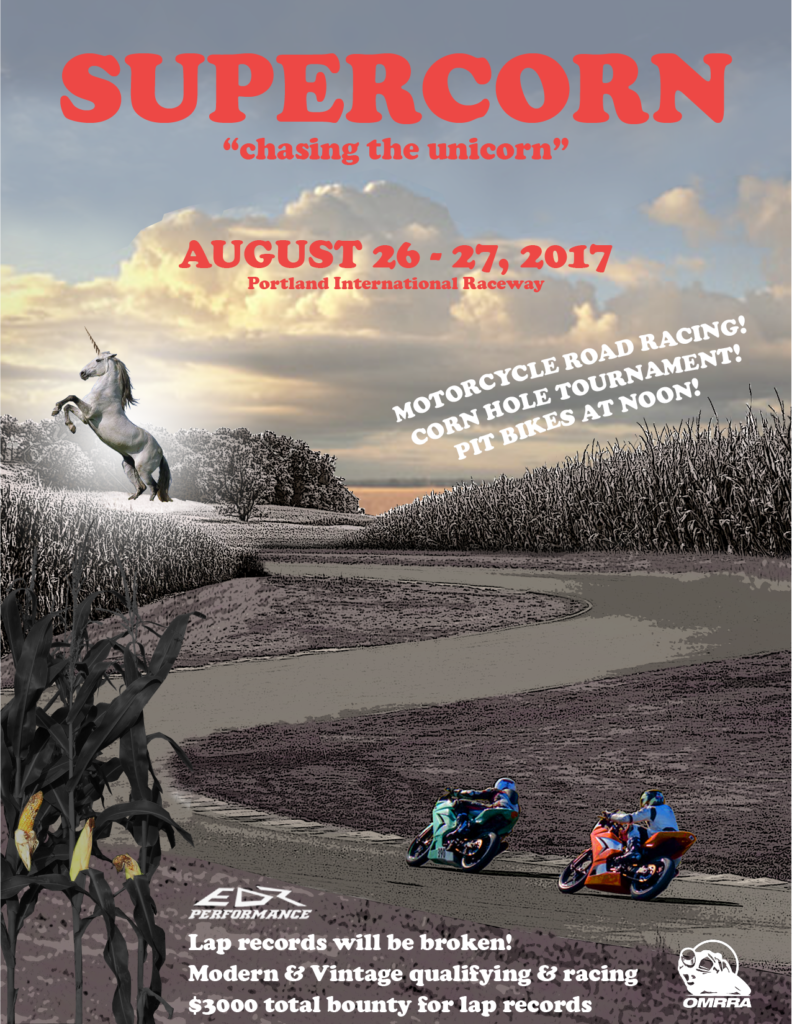 OMRRA SuperCorn Weekend
The Oregon Motorcycle Road Racing Association (OMRRA) announces the first annual SuperCorn Weekend, a festival of speed at Portland International Raceway (PIR), August 26-27, 2017.
First, we chase the unicorn – PIR lap records – with $3000 in bounty provided by EDR Performance and OMRRA.
Our unicorns include these lap records:
Open – Devon McDonough 1:05.398
600 – Andy DiBrino 1:07.183
Middleweight (chicane) – Oliver Jervis 1:22.053
Lightweight (chicane) – Michael Caravatta 1:24.509
Ultralightweight (chicane) – Adam Faussett 1:29.001
Lightweight Vintage (chicane) – Eirik Nielsen 1:40.278
If a single lap record is broken, $3000 to that racer.  If two records are broken $1500 each, and so on, down to a possible six lap records.  Only new records that stand at the end of the weekend count for payout.  Records may be set in any race class for which the motorcycle type is eligible, so riders on each bike type will have multiple record-breaking attempts during the weekend.  Prize money will be handed out Sunday evening at the trophy ceremony.
OMRRA will implement qualifying for all grid positions during SuperCorn Weekend, so visiting racers have equal chance to start from the front, and can chase records with their peers.
Second, OMRRA announces Pit Bikes at Noon.  Sunday, August 27, at noon.  All riders eligible.  Up to 125cc four-stroke, and 50cc two-strokes allowed.  Three laps of a special PIR "short course" including normal turn 9, drag strip, front straight and hot pit.  Prizes for first and second place, plus Best Pit Bike Style, provided by Cycle Gear.  Costumes encouraged.  Full face helmet, gloves, boots, and reasonable street riding gear required.  $20 entry, all donated to the OMRRA Injured Rider Fund. Pit Bike registration will be at the track on Sunday.
Third, it's Vintage Weekend at OMRRA, with LeMans starts, and the chicane in place.
And last, to tie it all together, Saturday evening OMRRA will provide pit master smoked BBQ, and hosts the First Annual OMRRA Corn Hole Tournament.  If you don't podium on the track, you might podium in corn hole.
So, get yourself to PIR August 26-27.  It's game on!
Details at www.OMRRA.com, and at www.facebook.com/omrra.racing/